INNOVATIVE RURAL DEVELOPMENT
The Innovative Rural Development Result-Oriented Program is designed as an intervention area for the purpose of supporting new income generating activities in rural areas, harmonizing living standards in rural areas with urban areas, and supporting sustainable development in sub-regions regarding the vulnerability of intense population loss in rural areas of Ankara.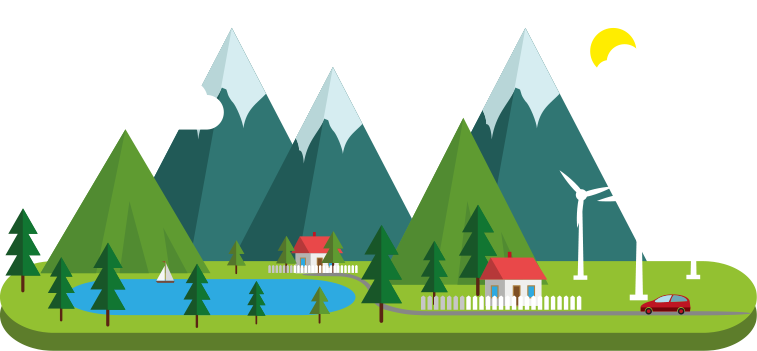 Strategy and Analysis
ANALYSIS
Idle Facilities and Their Features
in Perimeter Districts of Ankara
This report regarding the idle buildings and their features in the perimeter districts of Ankara has been prepared by using the Rural Survey Data of Urban and Rural Settlement Systems Research Project in Turkey, which is executed by General Directorate of Development Agencies of the Ministry of Industry and Technology. The report constitutes an important output for beneficiary candidates who want to implement projects in rural areas, public institutions and potential investors that are planning to invest.
STRATEGY
Ankara Rural Innovation Road Map
2017-2023
The Ankara Rural Innovation Road Map is a strategy and action document for the development and rural integration of innovative practices on three axes, namely agriculture and agriculture-based industry, rural tourism and social entrepreneurship, in order to accelerate an innovative and sustainable rural development process in the sub-regions that constitute rural areas of Ankara. The basic approach in the Rural Innovation Roadmap is to increase the level of development of districts in periphery of Ankara, by transferring the technological knowledge and equipment gained in the city center to those districts, together with the construction of the prepared actions on the strengths of Ankara.
TAGTECH PLATFORM
Entrepreneurship and technology platform in agriculture within the scope of industrial revolution based on digital transformation; aims to integrate up-to-date knowledge and technology into the agricultural sector, to expand entrepreneurship in agriculture, to become a self-sufficient city, and to ensure the continuity of sustainable agriculture with future generations.
This platform aims to contribute;
- Developing and disseminating Smart/Precision/Digital farming practices,
- Integration of agriculture with technology producing sectors,
- Development of agricultural biotechnology,
- Transition from traditional agriculture to sustainable agriculture,
- Renewal of the agricultural production organization,
- Developing the entrepreneurial farmer model,
- Increasing productivity and added value in agricultural production,
- To make the agricultural sector competitive on an international scale
through trainings, technical consultancy, product trials, field studies, financial supports and projects.
Agriculture in Ankara
1.14
Cultivated Farmland Area
(million ha)
32
Geographical Indication Products
6.75
Crop Production Value
(billion TL)
1.53
Animal Production Value
(billion TL)
2.76
Ankara GSYİH Katkısı
(milyar TL)
Supports Provided
As Ankara Development Agency, we prepare regional plans based on participation, in line with the national development plan, and provide technical and financial support to projects and activities for the implementation of these plans.
₺103 M
FINANCIAL SUPPORT
(by the end of 2021)
122
RURAL DEVELOPMENT PROJECTS
İlgili Etkinlikler
İlgili Haberler